The story of The Birds' Flight:
Sometime around the fall of 2016, Pete and I took matters into our own hands. First, I began handpicking Scottish pipe tunes―a mix of pibroch and session tunes, some a bit lost and weary―and attempted to convert them into Appalachian-style waltzes and hoedowns. But recognizing these new incarnations had only gotten as far as an ethnomusicological no-man's-land, stranded in the midst of the Atlantic, I invited Pete to further refine them and bring them ashore to the New World. Pete, equipped with fiddle, banjo, and a half-century of hoedown experience, more fully rounded the edges, streamlined the fingerwork, inserted some familiar turns, and added more swing and the odd melodic quirk, all of which gave these old tunes an authentic-sounding drawl. It was then that Brad Kolodner, with an affinity towards genre-mixing and precision banjo playing, was enlisted for the final distillation. And so, with the process of appalachification more or less complete, these new-old tunes have perhaps found a new life.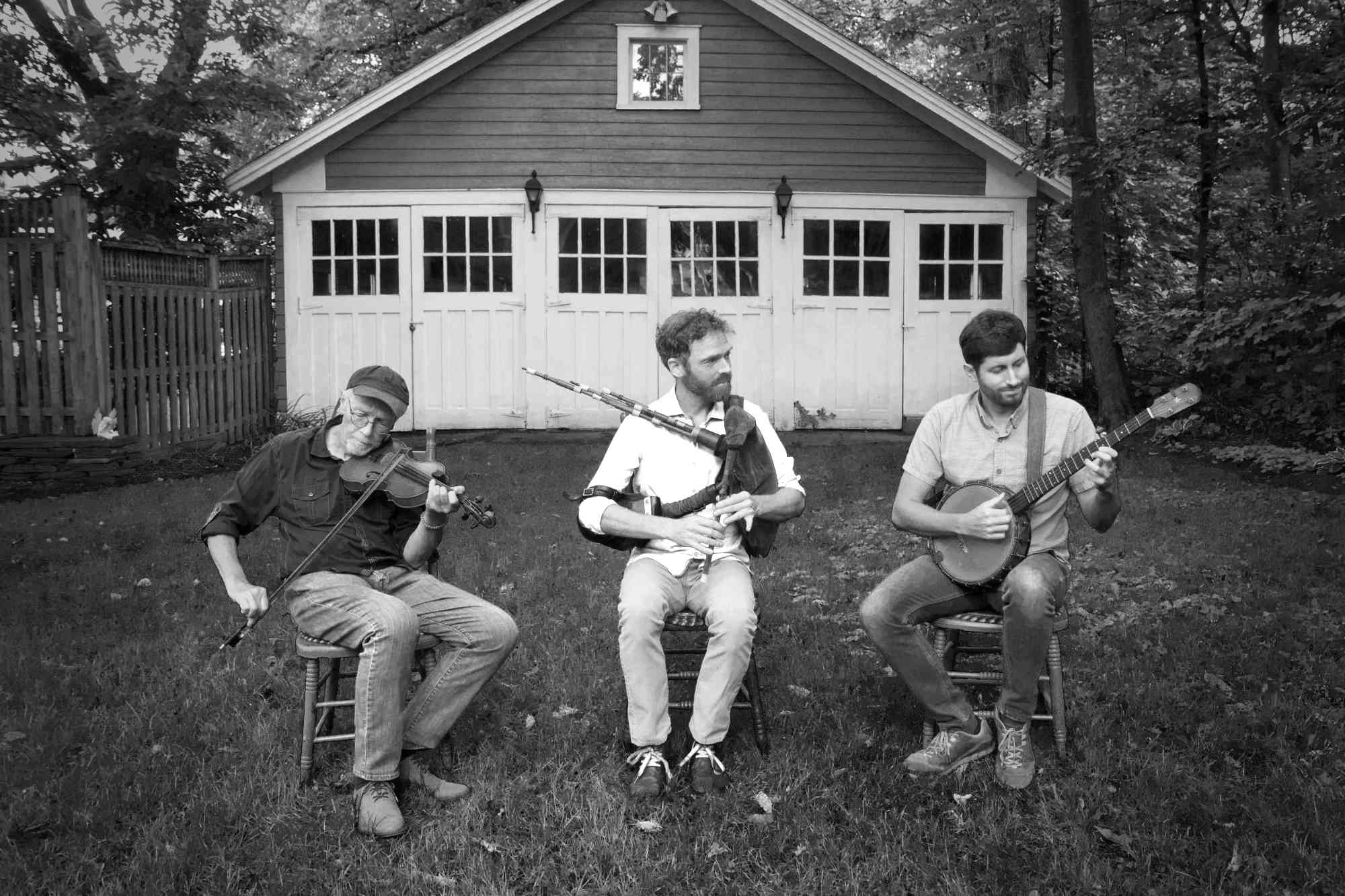 This certainly isn't the first time Scottish tunes sailed westward and woke up speaking Y'all. Much of the existing Old-Time canon grew out of dance tunes that came over with the early Scots-Irish settlers, and, over the span of two hundred years, mingled with the traditions of enslaved Africans (among other populations) to become a distinct genre of traditional music. Pete and I, along with Caleb Elder, explored several such tunes in our 2012 album, The Piper in the Holler. But The Birds' Flight may be the first project dedicated almost entirely to the deliberate transmogrification of tunes from the British Isles. The result, so we like to think, is a relatively natural expansion of Appalachian Old-Time repertoire, with authentic-sounding tunes that possess both the depth of antiquity and a refreshing newness. Along the way, there was some conceptualizing of a distinct Appalachian bagpipe and style of piping: bass drones were muted, grace-notes were reduced, simplified, and shifted to the offbeats, high-Bs were added, and swing, pitch bends, and melodic variations were wholly embraced―most of this played on pipes made by American pipemakers who sourced numerous components from the Northern Appalachians.
Our trio settled on "The Birds' Flight" as the project title for a few reasons in addition to it being the name of one of this album's offerings. First, there's the associated symbolism of migration―be it bird, tune, song, or dance―of crossing the sea to a new homeland. Second, it references a concept once offered by Pete Seeger, whereby a folksong transcription is analogous to a photograph of a flying bird: in both cases, one assumes the subject matter, in the moment it was 'captured', had come from somewhere else, and had already continued onward by the time the printed version was in hand. Of course, capturing a tune by means of a microphone is no different. The tunes on this album, it is fervently hoped, will continue to take wing and explore new territories and flavors, perhaps even returning back to their place of origin to be caught and released once more.
Tim Cummings
Burlington, VT
June 2021